One Team Survey
Groups of 8 - 200
Discover your team's strengths and growing edge. Evaluate the levels of your team's Trust, Interdependence, Genuineness, Empathy, Risk and Success to remove the guess work from your next team improvement step. Build more cooperation among employees and collaboration between departments for improved revenue, purpose and impact.
Multiple Surveys
Multiple Groups of 8 – 200
Discover Department strengths and growth opportunities. Uncover Trust, Interdependence, Genuineness, Empathy, Risk and Success hurdles so your team training, systems refinement and change initiatives are on target. Receive the intelligence you need for team development and trackable return on investment.
Added Support
Added Support Options
Your survey portal is intuitive and well documented so you can complete surveys with no added fees. However, there are times when you might want a TIGERS® Licensed Coach to review your survey results with you. Or, perhaps you would like to brand the survey to your own organization. These options are available to you when you add this option.
What
we offer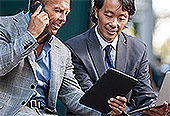 Strategic 360 Group Behavior Assessments
The 6 TIGERS® Principles –- trust, interdependence, genuineness, empathy, risk and success -- produce a cooperative, engaged workforce with positive team relationships. The TIGERS® 360 Team Survey™ provides the intelligence you need to build and improve teams and work environments.
The 6 TIGERS Principles are researched-based and validated through Gonzaga University. For over two decades, the TIGERS 360 Team Survey has served strong leaders who desire to build and maintain collaborative, innovative, and scalable work cultures.
Three surveys in one.
Think of a survey as a bucket. Inside each bucket are 3 surveys; a benchmark survey for targeted development and two comparison surveys to track your progress and to illuminate your next step. Correlate the information you gather and the interventions you deliver with company financial reports to calculate your return on workforce development investment.
More Info
Our
services
Online TIGERS 360 Team Surveys for one group or multiple departments
The TIGERS 360 Team Survey is intuitive to set up and for administering surveys to your group members. Enter your team members and their email addresses through a spread sheet. Craft your invitation to team members to participate in the survey. Cut and past your message from notepad or a similar program and enrich your message with a convenient word editor. Press send and your message is instantly delivered to your group members with their own unique survey link. Track who completes the survey and send reminders with one key stroke. View results once 50% or more completed surveys are returned. Print your report when 75% or more surveys are completed.
SUBSCRIBE TO OUR NEWSLETTER: